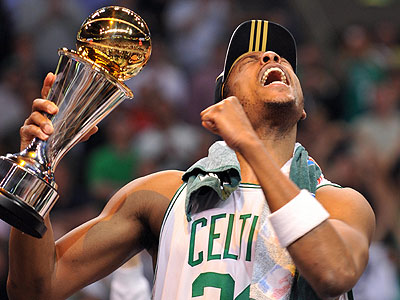 It seems all the Boston Celtics needed to get back on track was a short stretch of games against the relatively pathetic Atlantic Division. After thoroughly throttling the Raptors in Toronto, then coming home to squeek one out against the same Raptor squad in overtime, the C's knocked off the Nets to make it a cool three in row before heading off to New Jersey for their second straight home and home.
So what happened to that team that went on a 2-7 streak over the last few weeks? We can only hope that they have gone far away for a long time, but what has changed over the last three contests (putting aside the fact that the games were against lesser opponents) is the following:
1) Getting the ball to the big-3: Over the last three games Paul Pierce has averaged 24 points (4 above his season avg.), Garnett 18 (2 above his season avg.), and Allen 20 (2 above his season avg.). Those slight PPG increase may not seem like a big deal, but if the big-3 had scored 8 points a game more during the previous nine games, the C's go 7-2, their only loses coming to the Golden State and Cleveland.
2) Rondo's confidence: Because Rajon Rondo has won a championship, sometimes you forget that this is only his second year as a starting pointguard and he is subject to those same distractions that affect other young players...like someone taking your job. When the rumors of Stephon Marbury signing with the Celtics were at the height, Rondo was at his worst. Whereas before he was driving the lane, both dishing and scoring, he fell into a rut where he averaged more than a turnover a game more than his season average. Last three games, back to normal for Rondo's solid 3/1 assist to turnover ratio.
3) Energy Level and Confidence: There is no statistic that can quantifiy the effort put into a game or the pressure players put on themselves to succeed. During the losing streak, the Celtics were PITIFUL in the fourth quarter shooting the basketball around 29% from the floor. The only explanation for that is they were pressing. When you have lost a number of games in a row, all you can think as the clock is winding down is, "let's just not lose this one" instead of "let's do what it takes to win". The C's clearly have the veterans that can change that mentality in a snap, which they've done over the last week and Boston's composure against the Raptors in a tight spot in overtime confirmed that the good old Celts that won 19 in a row are back...and hopefully up for another 19.
On a side note, how much fun was it to watch back to back games where the centers for both teams tossed up threes like shooting guards. When Brian Scalabrine and Andrea Bargnani were matchup up against each other, both Toronto and Boston were basically playing centerless with an extra small forward on the floor. The two "centers" combined for 9-20 from behind the arc over the two game span...not bad for a couple of big white boys.