After going a marginal 3-3 over their last 6, Bostons find themselves stumbling into a stretch of games which sees them matched up against 3 of the top 5 teams in the Eastern Conference. With Kevin Garnett remaining out of the lineup for this entire period of play, there are several guys who the Celtics are going to turn to to stem the tide and keep them in the hunt for homecourt throughout the playoffs: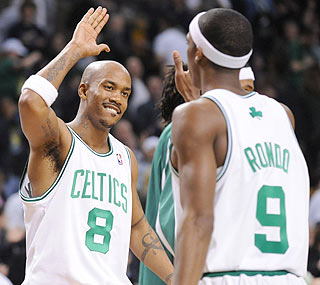 Stephon Marbury: The guy can play, but the guy is clearly rusty. After not seeing any NBA action in over a year Marbury came out guns ablazing against Indiana, scoring 8 points off the bench, including 6 big ones in the final period. Yesterday against the Pistons, however, Marbury showed just exactly what an exented hiatis from the game can do to a guy, shooting 0-3 from the floor and having his pocket picked twice as he was walking up the court by the undrafted, career bench-warmer Will Bynum. The Celtics picked this guy up because he was a scorer that could run the point and compliment Eddie House off the bench. Therefore, what the Celtics need out of him is one thing: points. Marbury needs to go out and shoot and drive until he starts drawing double teams that open up House behind the arc or Leon Powe down low.
Glenn "Big Baby" Davis: This guy is a shorter, rounder Kevin Garnett on offense...but with less court vision. Davis has shown his ability to step back and hit the mid-range jumper the Big Ticket is so fond of, but what Baby is unable to do is dish like KG. If Davis can somehow get his passing game going by dishing out to Ray Allen or hitting a cutting Rajon Rondo, then his value on offense is going to skyrocket. Defensively he gives you all of the effort his 6-9 frame can give...and although hustle makes up for some of his inadequacies, let's face it, he is going to have to play out of his mind to even come close to filling KG's shoes on the defensive end of the floor.
Mikki Moore: The Celtics' new big man could also be the biggest question mark on the roster right now. What kind of player do we really have here? Did another P.J. Brown just fall into our laps? Or is this guy going to be soft inside like Patrick O'Bryant? After seeing him in action I'm just not sure. His tenure in the league certainly suggests that he is capable of playing ball, but his propencity for settling for jumpers instead of taking to the rack is a little scary. If Mikki Moore can establish himself as the guy down low to compliment Leon Powe off the bench, so Powe can drop back and play the 4, then the C's bench is going to be dynomite.